About the Project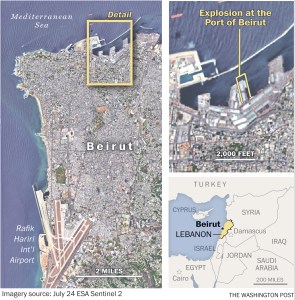 When a Beirut warehouse exploded on Aug. 4, the shock wave hurled Washington Post correspondents Liz Sly and Sarah Dadouch to the ground and severely damaged their apartments. In a first-person account a day later, Dadouch acknowledged she wasn't sure how she survived the blast, which showered her with debris and left her bloodied. Yet within minutes, Sly and Dadouch started to report. Soon joined by Loveday Morris and Louisa Loveluck, whose apartment was also wrecked, they embarked on a stream of daily coverage revealing the negligence that led to the blast, the crippling toll it took on a city and the wrenching losses it inflicted on its people. Lorenzo Tugnoli's photography captured the hard-to-fathom scale of the destruction.
The team reported immediately after the explosion that highly volatile ammonium nitrate had been stored for seven years at the edge of downtown, despite repeated warnings. Further investigation yielded an exclusive report that, days before the blast, a judge had dispatched workers to seal off a gaping hole in the warehouse. But this measure, intended to prevent theft, may have contributed to the blast. Morris explored the blast's staggering financial cost and the grim prospects for reconstruction in a country racked by corruption and mismanagement.
Dadouch recounted the story of three Lebanese men, all family, who had signed up together as firefighters. All three died responding to the blaze that ignited the explosion. Loveluck wrote of a family waiting for a call from a missing son that never came. And Loveluck teamed with Tugnoli to explore how the residents of a poor neighborhood remained traumatized weeks later. Beirutis repeatedly told our correspondents how grateful they were for their work, seeing it as a sign the world was taking note of their tragedy.
---