About the Project
The U.S. Supreme Court will soon issue a ruling in Dobbs v. Jackson. A draft of the decision leaked in May suggested that the court was ready to overturn Roe v. Wade, ending the constitutional right to an abortion. Months before this, The Washington Post launched its enterprise coverage about the potential of a post-Roe America, especially in states that weren't waiting to make striking new moves towards ending abortion.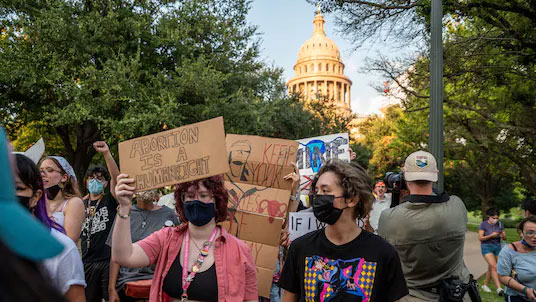 Approximately half of all states are poised to ban or severely restrict abortion. Texas and Oklahoma have already succeeded in passing total or near total bans, giving the country a preview of what life could look like if Roe falls. The Post's daily podcast, "Post Reports," partnered with national political reporter Caroline Kitchener for an ongoing series examining how we got here and the impact of these restrictions. The series is built on original interviews and tape, and features recurring characters drawn from Kitchener's reporting. She has developed deep sourcing with people on all sides of the issue, giving her a unique ability to capture the significance of this moment and bring listeners to the core humanity of the story.
The coverage includes:
—A rare look inside a pair of abortion clinics in Tulsa as the end of legal abortion looms. The episode features powerful, intimate tape recorded inside patient consultations with the specter of a statewide ban hanging over their heads. Just a few weeks later, the governor signed a bill that outlawed abortions from the moment of fertilization.
This episode also introduces listeners to Dr. Alan Braid, a veteran OBGYN and abortion rights advocate who owns clinics in Oklahoma and Texas. Braid had been sending Texas patients who were past the six-week mark – and therefore ineligible for abortion in Texas – to his clinic in Tulsa, only to see Oklahoma clamp down on abortions there too.
—Breaking news coverage of the Supreme Court leak. In this episode, Caroline talks to anti-abortion activists like Kristin Hawkins, president of Students for Life, who had been working towards this day for decades. She also talks with Braid and other providers whose clinics could soon close. This episode also features expert analysis from Post reporter Robert Barnes and reactions from people celebrating and grieving outside the court the night of the leak.
—The untold story of the Texas abortion ban. Last May, Texas enacted a bill that effectively banned abortions after around the six-week mark and employed a novel method for enforcement. This episode details the law's untold origin story through the eyes of one of its main architects, John Seago, president of Texas Right to Life; and Braid, the doctor who tried and failed to challenge the law by performing an illegal abortion after six weeks of pregnancy.
Caroline's expertise, warmth and poise on the mic, and empathy with sources distinguishes her coverage, especially in audio. In addition to helping listeners understand the mechanics of these laws, her reporting drives home their impact, in both concrete and emotional terms.