Judges comments
This groundbreaking feature signals a new form of storytelling. Borrowing elements from video games, this immersive feature encourages you not merely to consume the story but to interact with it. Leveraging a rule of good drama—show, don't tell—it vivifies a historical event and contributes to our understanding of history.
About the Project
With the 100th year anniversary of the Tulsa Race Massacre approaching, The New York Times launched an ambitious effort to recreate, in 3-D, the thriving Black neighborhood that was destroyed by an angry white mob — so that readers could understand the full scope of what was lost.
The massacre — which killed hundreds and burned more than 1,250 homes — had been willfully buried in history for decades. Many Americans have only recently learned about the atrocities that took place in Greenwood, the neighborhood in Tulsa, Okla., on May 31 and June 1, 1921.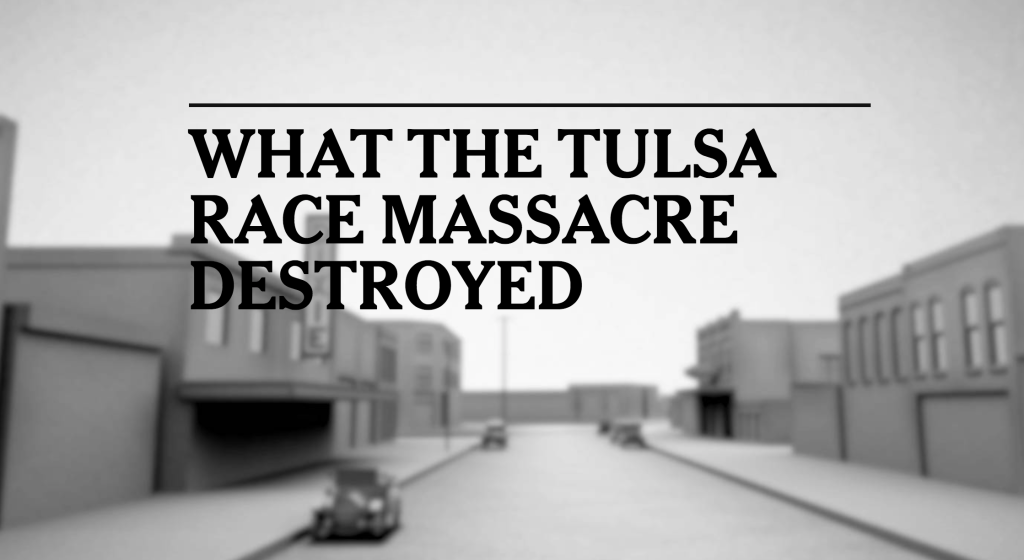 Our piece takes readers back in time to the neighborhood before the massacre. Readers are first taken on a virtual tour through the more than 70 businesses in Greenwood's marquee block, which included the city's first movie house for Black people. They are introduced to the movers and shakers on the block — the successful Black women and men who ran doctor's offices, billiard halls, barber shops and hotels. There's also an interactive aerial view of the larger Greenwood community, which included 35 blocks of bustling retail stores, two schools, two newspapers, a hospital and a dozen churches.
The 3-D rendering was created through months of research and digging through archival photos and maps. Photos from the time period allowed our graphics editors to reconstruct details of the neighborhood, from windows of buildings to cars to electrical poles.
To create the aerial view, we wrote a computer program that used machine learning to read flat maps of Tulsa and translate them into 3-D buildings. A separate computer program was created to speed up the manual input of the heights of buildings based on small notations on the insurance maps.
To determine where individuals lived and worked, the team analyzed census data from Ancestry.com, and wrote software to convert text from the digitized 1921 Tulsa city directory to a searchable database. Each business name was meticulously checked against several different sources. Newspaper clippings and testimonies from survivors helped piece together individual stories about the businesses and people.