About the Project
In October 2019, Pacific Gas and Electric Co. took a historic step, initiating preemptive electricity blackouts affecting hundreds of thousands of Northern Californians in an effort to prevent its power lines from igniting wildfires. Despite this move, a fire sparked beneath PG&E lines on the night of Oct. 23 in rugged Wine Country hills.
As the two crises converged, SFChronicle.com was the home of round-the-clock reporting on both the unpredictable outages and the Kincade Fire, which burned homes and wineries, forced mass evacuations and threatened communities still rebuilding after being destroyed by fires two years before. At that time, The Chronicle was the only source of reliable information on the power outages: The utility's website went down and only The Chronicle's interactive outage map was able to inform people whether they might be affected.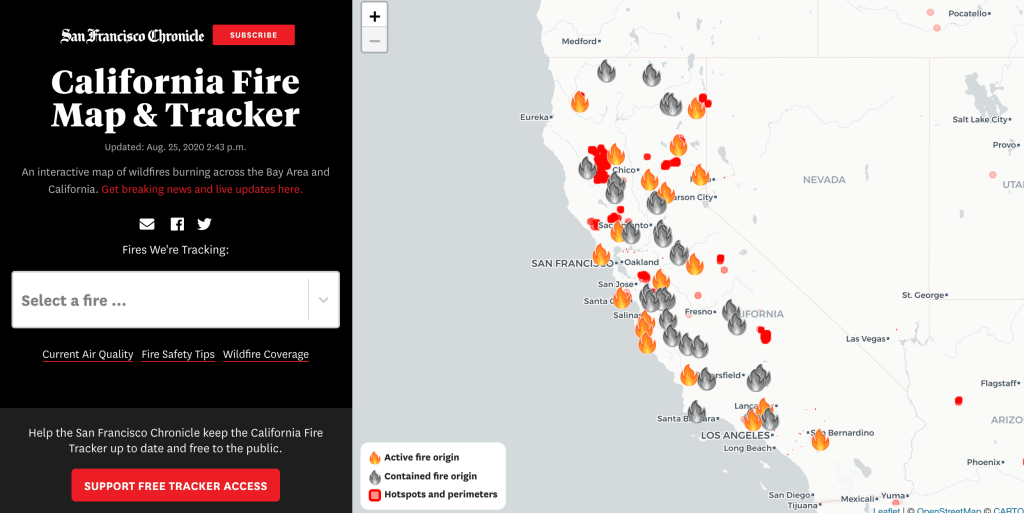 These simultaneous breaking news events required an approach that drew on every type of reporting and media platform. The Chronicle's coverage had to be immersive and multidimensional in a way that we had never attempted in the past.
We provided constant breaking news articles, a "live updates" page that was republished at all hours, as well as exclusive investigations, features and scene pieces.
We offered utility information about vital issues, such as when power would be restored and whether using a generator was safe.
We redeveloped our statewide Fire Tracker and published an interactive Power Outage Map, each continually updated with the latest data.
We highlighted the most dramatic photos and videos from within feet of the fire, most included in a mobile-friendly visual essay.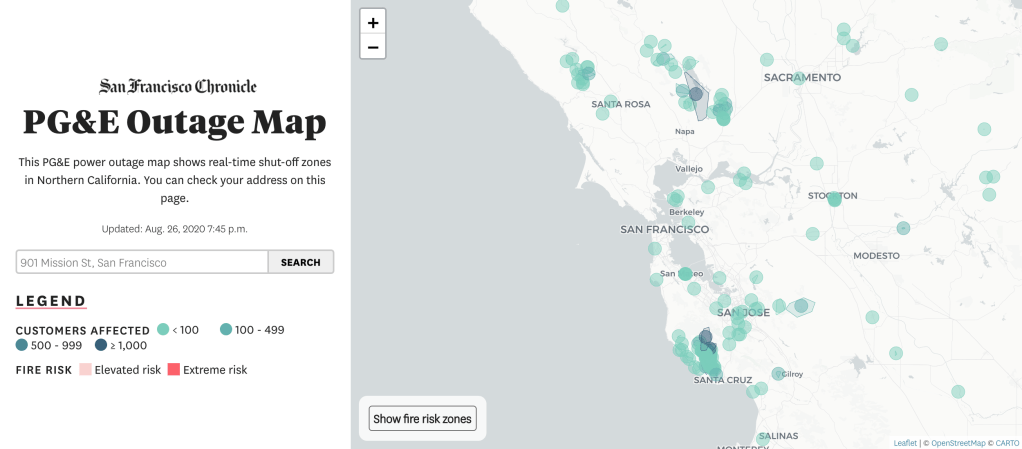 The Chronicle's reporting was also notable for the scoops and enterprise efforts it produced as the crises were unfolding. Not only did The Chronicle first reveal the location where the fire started, but it took readers there in a multimedia presentation powered by Google Earth.. Even before the fire started, we had raised questions about PG&E's culture and judgment with a big scoop: Utility executives had, just before the outages, wined and dined customers at a luxurious event just miles from where the Kincade Fire would burn.
We are proud to nominate our coverage of the Kincade Fire and PG&E power shut-offs in the Breaking News category of the Online Journalism Awards.
---