About the Project
In Minneapolis, and around the world, the murder of George Floyd prompted an outpouring of grief and outrage. It quickly became a history-shaping flashpoint in a centuries-long conflict about race and policing, with Minneapolis and St. Paul the epicenter. Protests quickly spiraled into riots that killed two people. Lake Street, one of the most vibrant, racially diverse thoroughfares in Minnesota, became the epicenter of the riots, as business after business was burned and looted. The Minneapolis Police Department's Third Precinct, the station where the accused officers were based and in the center of the hardest hit area, was destroyed. The fall of the precinct was an unprecedented event in modern American history.
The Star Tribune immediately and comprehensively documented these historic events with deeply reported coverage – stories, photos, videos, graphics and analysis of complex data. It resulted in a dramatic, authoritative multimedia timeline, "One Week in Minneapolis."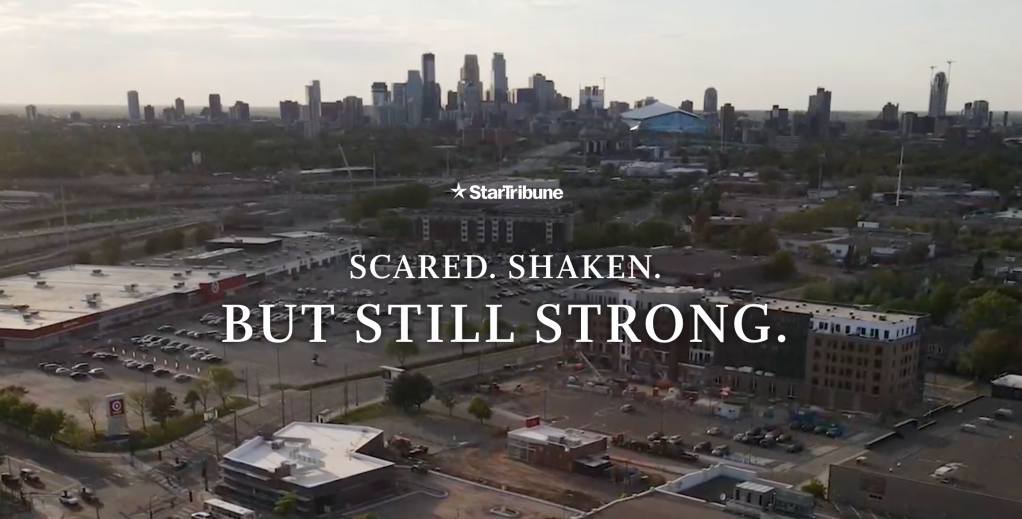 In the weeks followed – and throughout the year – reporters. photographers, designers, videographers fanned out to cover the unfolding story focused on the killing of Floyd and the conduct and culture of the Minneapolis Police Department, the intense debate around police reform. Meanwhile, as the community struggled to comprehend and address the massive destruction – we began to chronicle the extent of the damage and the people who ran those businesses.
Investigative reporter Jeffrey Meitrodt immersed himself in the business and bureaucracy of disaster recovery, scrutinizing public records and spending hours in the riot zones. He earned the trust of property owners and small businesspeople, many of them immigrants with limited English. We showed our readers how the biggest victims of the riots were often minority business owners who did not have enough insurance coverage to rebuild. And our coverage spurred government to change its practices to help those in need.
We also showcased the resilience of our local business community. In December, we published an in-depth story on the challenges involved in rebuilding a strip center that was at the center of the riots. As part of the reporting, the Star Tribune questioned a major insurance company about unusual delays in processing an insurance claim for one of the tenants. The insurer announced it would cover those costs.
As the one-year mark approached, we wanted to assess the broad impact on the second-costliest civil disturbance in U.S. history. We walked door to door at hundreds of buildings along a six-mile stretch of Lake Street to assess the struggle to rebuild. Many of these businesses felt they have been on their own. They relied on financial help from philanthropists and community groups and are still waiting for state or federal aid. We also documented a different story of rebuilding – the citizenry's resilience and commitment to restoring their once vibrant, thriving community.