About the Project
Death has long been called the great equalizer, the one thing that rich and poor experience equally, and that no amount of money in the world can help one escape.
However, that's not actually true.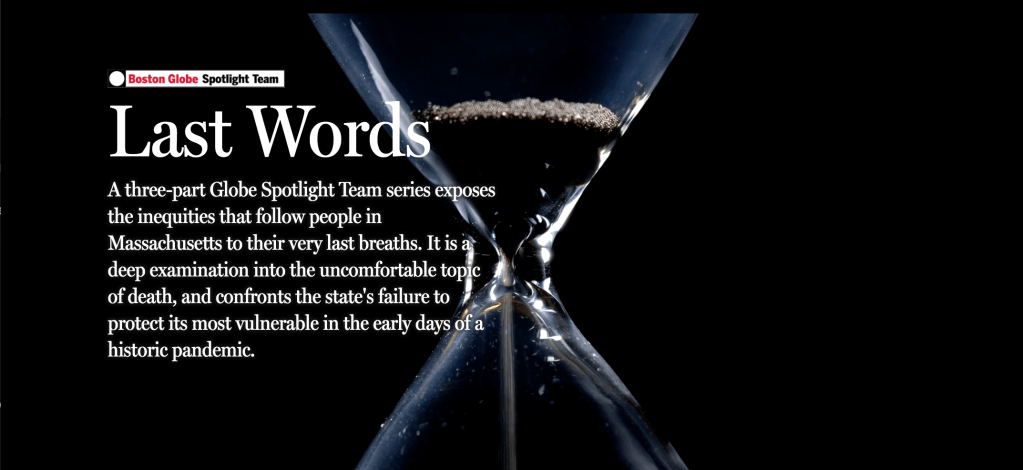 A September 2020 report by The Boston Globe's vaunted Spotlight team laid bare, through data and narrative, how society's inequities extend even to the grave, and how few of us control our final days. While the project began before COVID-19, the results of the team's reporting were only reinforced by the tragedy of the pandemic.
These findings — the result of an unprecedented 20 years of death certificate data obtained, analyzed, and visualized by the Globe — proved the foundation for the report.
Through this reporting, the team discovered that in Massachusetts, a state that boasts some of the world's greatest hospitals, inequality was a driving factor not only where and how people die, but in how long they live. The difference between living in a wealthy neighborhood or a poor one can mean as much as 15 years of life.
The disparities are particularly acute in long-term care facilities. The region's long-neglected nursing homes were particularly ill-prepared to handle the pandemic. By summer, Massachusetts had one of the nation's highest death tolls among long-term care residents: one in seven nursing home residents died of COVID-19. This wasn't just the virus taking its toll: The team's reporting uncovered multiple factors responsible for high fatality rates unique to Massachusetts.
Our reporters found a rich and poor divide in nursing homes, including evidence from a Spotlight undercover operation that shows facilities discriminating against Medicaid applicants in favor of wealthier patrons who can afford to pay higher private rates.
The findings were not just economic. Race, the team found, influences a person's access to palliative care and hospice — the compassionate medical specialties for the seriously ill and those at the end of life — as well as the likelihood of dying at home. Reporters found that in addition to a lack of good options for everyone, there is often a lack of trust; for Black patients, especially, end-of-life planning to avoid an overly medicalized death raises suspicions about not getting enough care.
The Spotlight Team produced three deeply reported stories to illustrate the inequities. But we also sought to visualize the entire database of death certificates, spanning two decades and millions of lives, to illustrate broader patterns. We crafted a series of visualizations that broke down patterns by economic and racial groupings, showing just how unequal life was, even in death.
We proudly submit "Last Words" for the OJA in explanatory reporting.