About the Project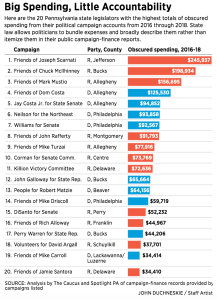 In "Big Spending, Little Accountability," a collaborative team of reporters from Spotlight PA and The Caucus revealed how state lawmakers have for years taken advantage of notoriously weak campaign finance laws to hide millions of dollars in questionable and sometimes lavish campaign spending. The year-long investigation found lawmakers, who have long resisted efforts to tighten the rules surrounding campaign finance, used credit cards, gift cards and self-reimbursement to mask the true purpose and recipient of their spending.
Expenses included pricey dinners, foreign trips, sports tickets, a country club membership and even a DNA test kit. None of those items were included in publicly available reports. From 2016 through 2018, state House and Senate candidates spent nearly $3.5 million from their campaign coffers that cannot be traced based on the information they publicly disclosed. The investigation also revealed a previously undisclosed European trip taken shortly after lawmakers passed a landmark wine sales bill — raising questions about influence and conflicts of interest — as well a government staffer who has been using a campaign credit card.
The reporting for this series was labor intensive, indicative of the archaic campaign finance system in Pennsylvania, which makes meaningful data analysis very difficult. Combine that with the vague and weak rules governing public access, and this project posed a significant challenge. The reporting team used a little-known provision of the election code that is supposed to allow the public access to three years of campaign spending records. But in reality, this provision has almost no teeth and the state Department of State provides very little oversight. As a result, campaigns took advantage.
Many took months to respond to requests for records or simply said they had not kept any (and there are no consequences for not complying with the law). Thousands of pages of records were available only in paper form. Some were poorly copied; others were haphazardly organized. The top Republican in the Senate — who had hidden the most campaign spending during the period reviewed — attempted to charge thousands of dollars for access and only relented after we engaged a lawyer.
The response was uniquely Pennsylvanian. Within hours of the first story being published, a group of powerful senators attempted to quietly tuck a provision into a bill that would have made it even harder to hold elected officials accountable for their campaign spending. Senate Republicans swiftly withdrew the controversial provision after Spotlight PA reported on it. Soon after, the top Senate Democrat introduced a campaign finance reform bill – supported by other top elected officials – to impose more accountability. Among other changes, the measure would require candidates to attach credit card statements to their campaign finance reports and ban the use of gift cards.
---