About the Project
We believe Seeing Red is an example of explanatory journalism at its best: It unpacks a complex — and infuriating — problem faced by millions of people each day, and offers a package of multimedia stories that bring deep context and potential solutions.
Before the pandemic hit, nearly 2 million people took cars to and from work in Greater Boston. To capture the mounting frustration of a gridlocked region, we had to delve deeper than mere traffic jams.
Instead, we framed the series with a big, unassailable number that had not before been made public: Greater Boston had 300,000 more cars and trucks than it did just five years ago. That number laid bare that there were simply too many cars and there will never be enough road. Seeing Red made clear in concrete, vivid terms that the region's traffic problem was an existential threat to the region's wellbeing.
The series also zoomed in on particular pinch points to help readers understand why they sat in traffic when there were no crashes or other obvious causes. We used aerial footage from drones, graphics, and narration to produce a video that dissected the anatomy of a traffic jam.
But most significantly, we recast the issue by holding those in power accountable in a way rarely done before. Reporters showed how the perks of elected office skewed toward the car and that politicians' inaction had fueled a crisis now at a tipping point. We scrutinized the region's top employers and showed how commuter benefit packages encouraged driving.
And lastly, we turned the accountability lens on ourselves and our readers. We explained in tangible terms how our own decisions — ordering a package from Amazon, or driving alone in a quiet car – exacerbated congestion. We showed how we are all, in fact, traffic.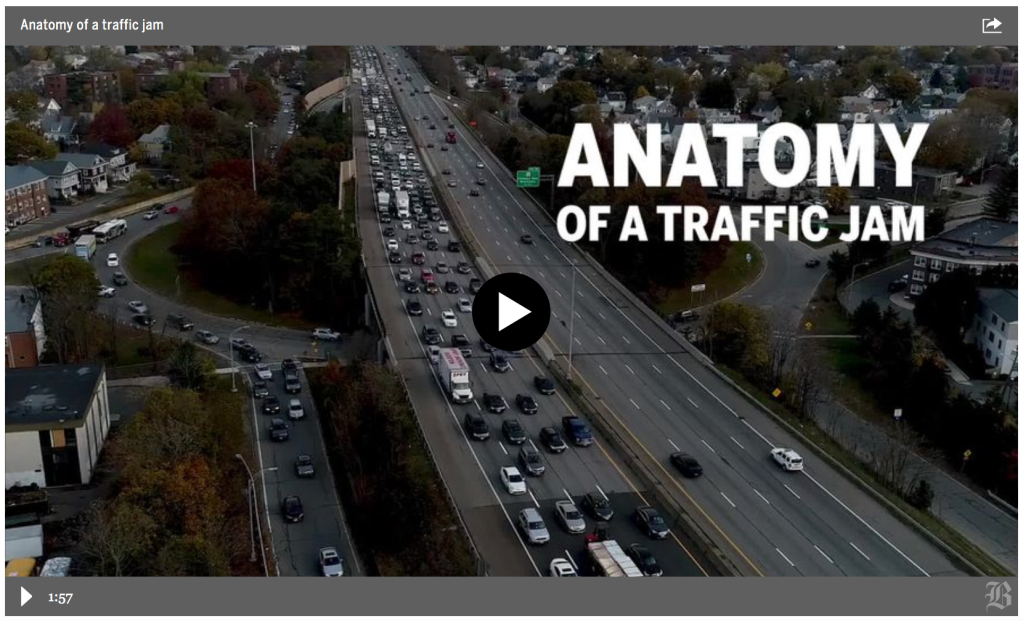 We wove this complex information into a deft multimedia project — three stories, a documentary video, striking data visualization — as well as a community impact discussion that lasted far beyond the publication of the stories, including an event attended by hundreds of readers.
Finally, we understood a project like this couldn't merely sit on our pages — we needed to connect to as many people in our region as possible to make an impact. To that end, we set up an e-mail newsletter that reached hundreds of thousands of readers, and a targeted strategy to reach mobile readers that included text, push, and social media messaging. The strategy worked, as more than 60 percent of our readers came through referral sources.
"Seeing Red" had a huge impact on readers, too, becoming the top-converting piece of content for The Boston Globe in 2019 and being among the most-read stories for both subscribers and non-subscribers alike. Beyond the numbers, readers flooded officials with calls for reform following publication, culminating in a public event held by the Globe in which attendees peppered public transportation officials with demands for change.
We proudly submit "Seeing Red" for the OJA in explanatory reporting.