About the Project
Tiffany Tate, mother of two, took pride in hard work, serving breakfast and lunch to the professors, students and staff at the Medical College of Wisconsin cafeteria. She never complained, almost never took a day off.
On a warm, muggy morning in August 2014, Tate was working on the line at the cafeteria, but something wasn't right. Slurred words. Drooping face. Difficulty standing. All telltale signs of a stroke. Worried co-workers called 911. The Milwaukee area's top stroke hospital, Froedtert, was affiliated with the Medical College and on the same campus, just 350 yards away.
Calling 911, it turned out, may have been a fatal mistake.
The emergency call brought an ambulance, but that ambulance couldn't take her to Froedtert because the hospital had closed its emergency room. That sent the ambulance on an hours-long, two-hospital trek that delayed Tate's care. She never recovered and died a few weeks later.
The delays were devastating. And entirely avoidable.
They were the result of a little-known practice that takes place every day in hospitals across the country: Ambulance diversion. Emergency rooms close themselves to ambulances, not necessarily because they have too many ER patients but typically because the hospital is backlogged in other areas – admissions, discharges – or has too many rooms booked for profitable elective surgeries.
The ambulances are forced to detour to a more distant and often less qualified hospital, putting pressure on the next ER, as one hospital's inefficient management cascades through the city health system.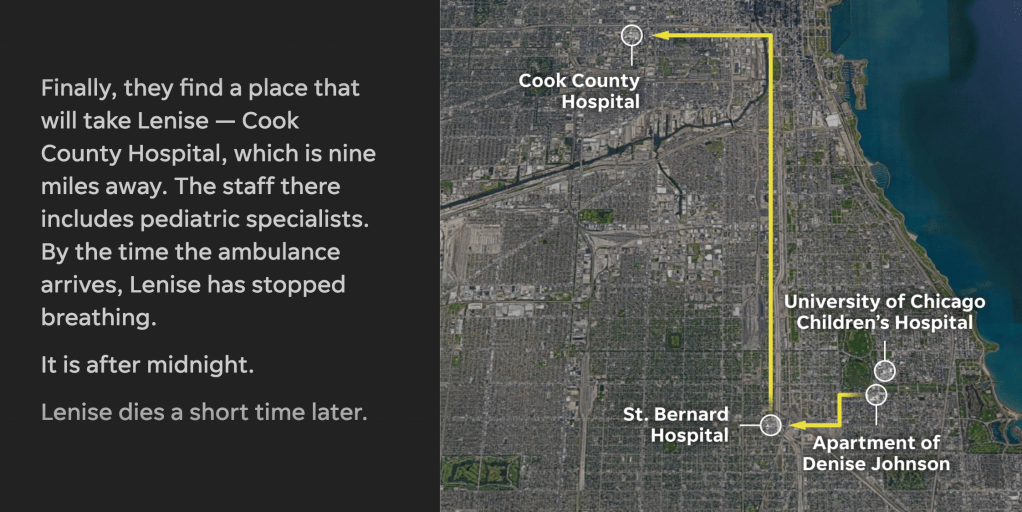 With determined shoe-leather reporting and deep data analysis, reporters John Diedrich and Kevin Crowe exposed a problem that continues across the country. They found two-thirds of the nation's 25 largest cities allow diversion or practices similar to it, including nine of the top 10. Among them: New York, Los Angeles, Phoenix and San Diego.
Studies show those most affected by ER closures are the most vulnerable – patients who are sicker, poorer and older than the rest of the population. One study showed African American patients were more likely to die from heart attacks during times of diversions than when emergency rooms are open.
Diedrich and Crowe identified 21 cases nationwide where people died after their ambulance had been diverted. Their relentless reporting – fighting for little-known databases, digging through decades of documents – took them across the country.
In Baltimore and Chicago, they found some of the top hospitals in the city were routinely closing their doors to ambulances with state regulators turning a blind eye to the problem.