About the Project
This Times Opinion series examines how to emerge from the coronavirus crisis with a fairer, more resilient society. Americans have demonstrated heroic strength during the pandemic, but the society itself has revealed profound weaknesses. Widening gaps in income, wealth and opportunity in the years before the virus hit left everyone more vulnerable to the disease. It undermined the nation's defenses and weakened its response. Yet, the devastation of the pandemic has also created an opportunity to begin to put things right, to ensure that the America that ultimately emerges is more just, more free and less fragile. Through this initiative, Times Opinion is exploring, and seeking to answer, basic questions about what the government owes its citizens, what corporations owe their employees and what we all owe one another.
The project will consist of three chapters, the first of which lays out the opportunity to imagine the America We Need amid the profound crisis of the coronavirus and its particularly devastating impact on people of color. Voices in that chapter include Minneapolis city council member Jeremiah Ellison; Michael Sandel, a moral philosopher at Harvard; Melissa St. Hilaire, a domestic worker; and Walter Scheidel, a historian at Stanford. The second chapter focuses on the importance of cities as engines of economic opportunity, and the flaws and challenges that hold them back from fully delivering on that. This chapter includes pieces by Min Jin Lee, a novelist; Farhad Manjoo, a columnist; and Nicholas de Monchaux, the head of architecture at M.I.T., among others. The third chapter, focused on the history of economic inequality and work in America, and the potential solutions, will appear shortly after the deadline for this submission. Each chapter is anchored by a statement of purpose by the Times Editorial Board, laying out the history of the issue and the central ways we can make things better. Throughout the series, we focus on identifying solutions to inequality, highlighting specific measures in areas including homelessness, segregation, public health, education and fair treatment of workers.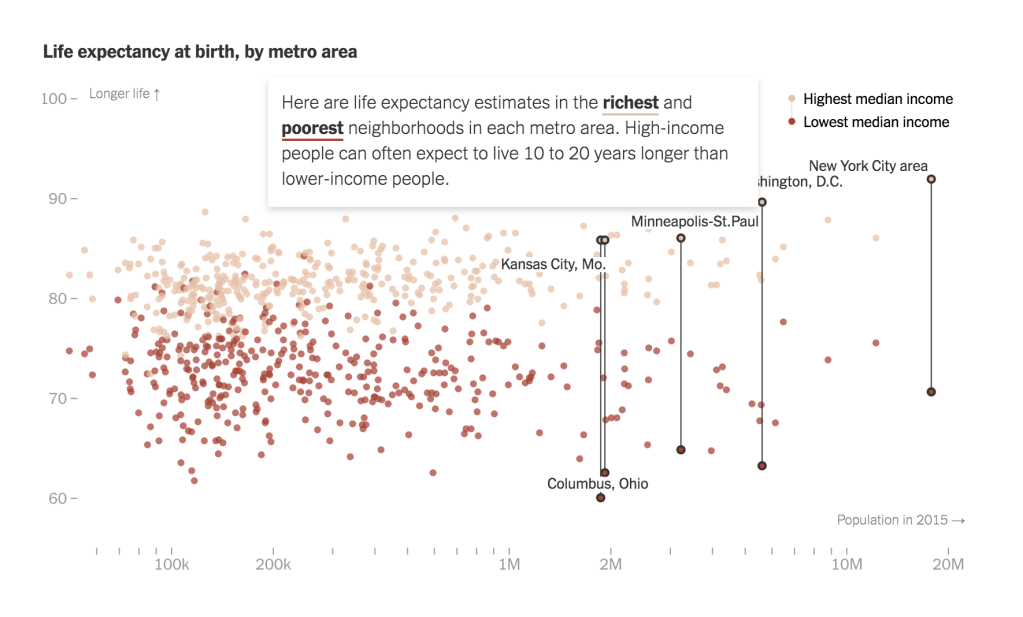 We worked closely with an academic group to conduct original research with 8,000 representative Americans into how the coronavirus was reshaping attitudes toward economic inequality. We partnered with Khan Academy to create a course built on charts from the series. We conducted a Twitter Live video session with will.i.am, the performer and entrepreneur. We solicited stories from people who could make these realities concrete — those born in 1980 and teachers in urban schools receiving hundreds of submissions and profiling about 20 of them. And we compiled and published the key charts documenting economic inequality in our country, and also the geography of inequality — providing an essential reference work for people concerned about the issue.
Our country's moment of crisis highlighted the cruel impact of economic inequality. Into that moment, we sought to document the toll, and lead a conversation about ways we could repair America to be the nation that we all need.