Judges comments
Catherine Rampell used the freedom of commentary to efficiently slice through the partisan fog that can often hamper reporting on immigration from the news desk. Her work had a real-world impact and its emotional resonance will earn her loyal readers for years to come.
About the Project
Donald Trump trumpeted an anti-immigration hard line from his presidential campaign kickoff speech, famously calling for a wall, decrying illegal immigrants and seeking to deport "Dreamers" by attempting to end the Deferred Action for Childhood Arrivals program. Less visibly, his administration created obstacles for immigrants seeking legal entry into the United States and, in some cases, threatening the status of many already here legally. Washington Post columnist Catherine Rampell dug deeply into actions of the Trump administration, reporting on how it built a barrier to legal immigration that reduced arrivals of foreigners by half: not through Trump's much-promised border wall but through red tape — by revising paperwork and fees, implementing arbitrary administrative obstacles, and blocking access to legal advice and due process. Walking readers through technical details, she explained how these executive-branch changes could take years to undo, even under a more pro-immigration president.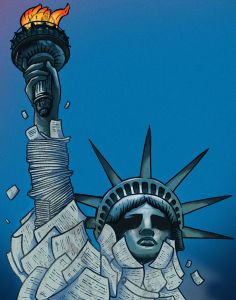 Her columns broke news, such as when the Trump administration stopped printing green cards and other credentials already promised to applicants, which in some cases had the effect of turning legal immigrants into undocumented ones. She reported low-profile changes such as the "no blanks" policy, under which U.S. Citizenship and Immigration Services (USCIS) began rejecting applications unless a form's every field was filled in, even those not relevant to the applicant (such as leaving blank fields for work history on a child's application or not listing an address for deceased parents). After immigration attorneys became aware of the standard, and began meticulously writing N/A in every space, the agency extended the policy to paperwork completed by law enforcement officials and health-care providers. (In columns and a longer essay exploring how, without input from Congress, the administration had been able to restrict immigration flows, screengrabs and other images of referenced documents often helped explain the forms at issue.)
Working with an interpreter, she interviewed a mother and son who had been separated at the border but later reunited; the published package included a seven-plus-minute video, written column and shorter video cuts interspersed in the text to detail relevant aspects of Leticia and Yovany's story.
In addition to policy changes, she reported the budget crisis at USCIS and funding issues the agency had not disclosed to Congress. This spring, a month before the Biden White House created a political scandal by reversing itself, she called out the new president's inaction on his own pledge to lift Trump's cap on refugee admissions.