About the Project
For the first time in Syria's nine-year war, we no longer need to say "allegedly" when describing potential war crimes. Through meticulous documentation carried out over seven months, this series proved conclusively that Russian pilots bombed four hospitals in Syria last May, bombed one of the hospitals again in November, bombed a busy street in July and a camp for displaced families in August. Scores were killed.
Russia has long been suspected of bombing civilian hospitals and clinics in Syria, but proving it has been near impossible. Russia and the Assad government denied it. And not even reports by the United Nations and other investigators could pinpoint responsibility.
But last October, the Visual Investigations team proved that Russian pilots bombed four hospitals in Syria in May 2019, violating one of the oldest rules of war.
One of those hospitals was hit again in November, and again we proved that Russia was responsible. We showed that Russian pilots hit a busy street in a densely populated city and a camp for displaced families — two of the bloodiest attacks in Syria last year.
Then, the U.N. launched an investigation into attacks on humanitarian sites in Syria. We decided to build their own visual report to highlight the scale of attacks and illustrate public accountability. Taking on schools, hospitals and a children's center included in the U.N. investigation, we found that the Syrian military was most likely responsible for at least four of the attacks, the Russian Air Force for one, and rebel groups for one or two.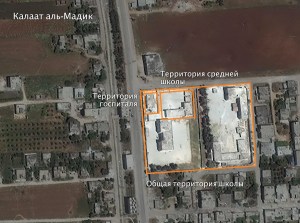 Few organizations could have achieved what The Times did. We synthesized critical data to determine culpability for attacks that the U.N. later labeled war crimes. We combined traditional reporting with data journalism and visual storytelling. We also traveled to Syria to hear voices on the ground describe the toll these bombings had taken.
The work relied upon open-source reporting, months spent translating and deciphering the code words on previously unpublished cockpit recordings of Russian and Syrian pilots, and interviews with former Soviet, Syrian pilots to understand how the air forces operate. We also acquired a database of flight observations from a network of plane spotters in Syria; the records included the time, location and general type of each aircraft spotted. We used Google Earth to map and geolocate attacks, and used dozens of videos and photos to examine explosion patterns and weapons. We obtained original video and photo files to extract metadata and establish the minute that airstrikes happened, and corroborated this with witness interviews and in-the-moment reports via private social groups on WhatsApp, Facebook and Telegram.
This investigation required a diversity of skills. Our team included geospatial analysts, online open-source investigators, weapons experts, motion graphics editors, social media verifiers and experienced storytellers.
We relentlessly pursued this reporting line for most of 2019, shining a light on the broken deconfliction system and a limited U.N. investigation. Our work pieces together visual evidence and creates indisputable timelines of attacks carried out in Syria throughout 2019.