Judges comments
This raw storytelling shone a light on the investigative reporting process and offered a transparent example of how sexual assault stories can be responsibly and respectfully reported.
About the Project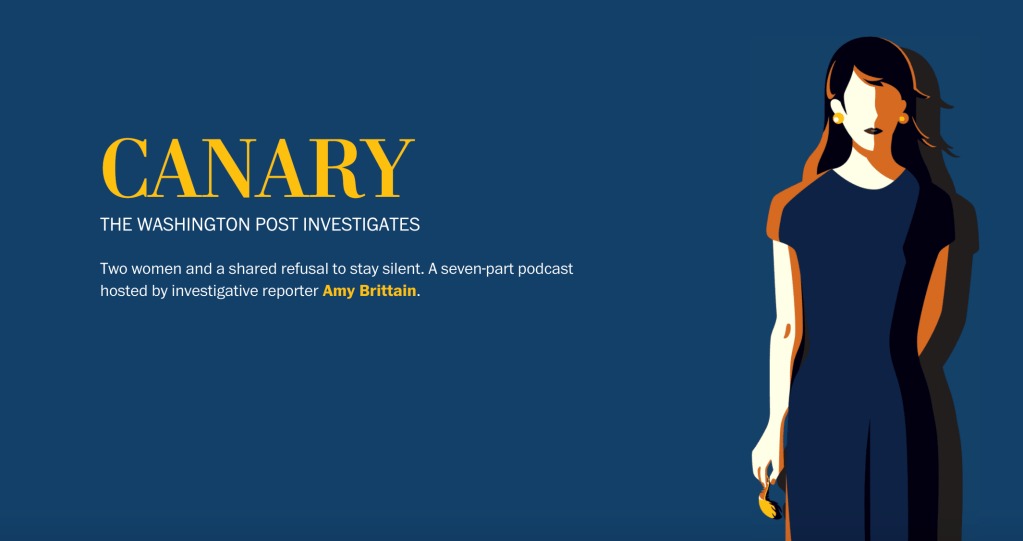 Every year, an estimated 400,000 Americans are sexually assaulted. Most never report the crimes to law enforcement, much less share their accounts publicly. But what happens when silence is no longer an option and the burden of keeping a secret becomes too much to bear?
A seven-part podcast, "Canary: The Washington Post Investigates," explores the decisions of two women to share their accounts of sexual assault – and the ensuing consequences of those decisions. The series reveals systemic problems within the criminal justice system that make it difficult for survivors to feel any sense of justice.
The story begins with Lauren Clark, a young hairstylist who was jogging in D.C. when a stranger attacked her. Her assailant — a local chef — admitted to assaulting five other women. A prominent D.C. Superior Court judge, Truman A. Morrison III, sentenced him to 10 days in jail, served on weekends.
After the chef was let off probation early without obtaining the required treatment, Clark took matters into her own hands — handing out flyers with information on the case. The flyers caught the attention of investigative reporter Amy Brittain, who dug into court records to tell Clark's story.
A 59-year-old baker from Alabama, Carole Griffin, read Brittain's story and contacted her with a stunning allegation: Judge Morrison had sexually assaulted her decades ago when she was a 16-year-old girl on a family vacation. Brittain traveled to Alabama with a digital recorder, beginning an 18-month reporting odyssey that would become The Post's first investigative podcast.
Canary draws on over 75 hours of audio gathered from reporting trips to three states and numerous phone calls with sources, along with thousands of hours of data-scraping and courthouse research to unearth sexual assault cases that Morrison handled over his 40-year career on the bench. Every phone call, car ride and late-night discussion around a kitchen table was recorded. The podcast shows what it takes to come forward with a claim of sexual assault, how journalists work to corroborate such an account and why that reporting matters.
The following is a series outline. All episodes can be accessed at washingtonpost.com/canary
Chapter One: "The system failed us" — A stranger attacks a hair stylist in D.C., sparking a four-year courtroom saga and a campaign for justice.
Chapter Two: ""A secret that she couldn't tell" — We head to Alabama to investigate an allegation about a prominent figure in the D.C. justice system.
Chapter Three: ""No way in hell she would make this up" — We look for any evidence to substantiate the new claim.
Chapter Four: ""To serve as a judge" — A judge rises to national prominence, fueled by 40 years of experience and activism.
Chapter Five: ""He's hurt my daughter" — A family reckons with the consequences of long-kept secrets.
Chapter Six: ""You can always have the last word" — How will the accused respond? And what will his defenders say?
Chapter Seven: ""I'll find my joy" — Two women come face to face.