About the Project
In at least 49 states and Washington, D.C., state foster care agencies comb through the files of abused and neglected children in their care to see who has a disability or dead parent — in order to apply for federal disability or survivor benefits on their behalf and pocket the money for the agencies' use.
"Foster Care Agencies Take Millions of Dollars Owed to Kids. Most Children Have No Idea." — our investigation with NPR — found that these agencies collected more than $165 million from the most vulnerable American children in 2018 alone. And the number is likely much higher, according to Social Security Administration data for 10 states obtained by a member of Congress and shared with The Marshall Project and NPR.
"It's like something out of a Charles Dickens novel," said Congressman Jamie Raskin, a Democrat, who as a Maryland state senator introduced the nation's only law that curbs the practice, which passed in 2018. "This is like confiscating someone's Social Security benefits because they availed themselves of the fire department."
The state of Alaska is currently facing a landmark class-action lawsuit over this practice that may reach the state supreme court later this year. The Marshall Project and NPR asked six former foster youth in the state how they could have put their money to use if it had not been taken from them: some said they might have saved for college, tutoring, therapy, a phone or laptop, or clothes suitable for job interviews. Others needed a security deposit so they could finally have their own apartment after bouncing between foster homes for so many years.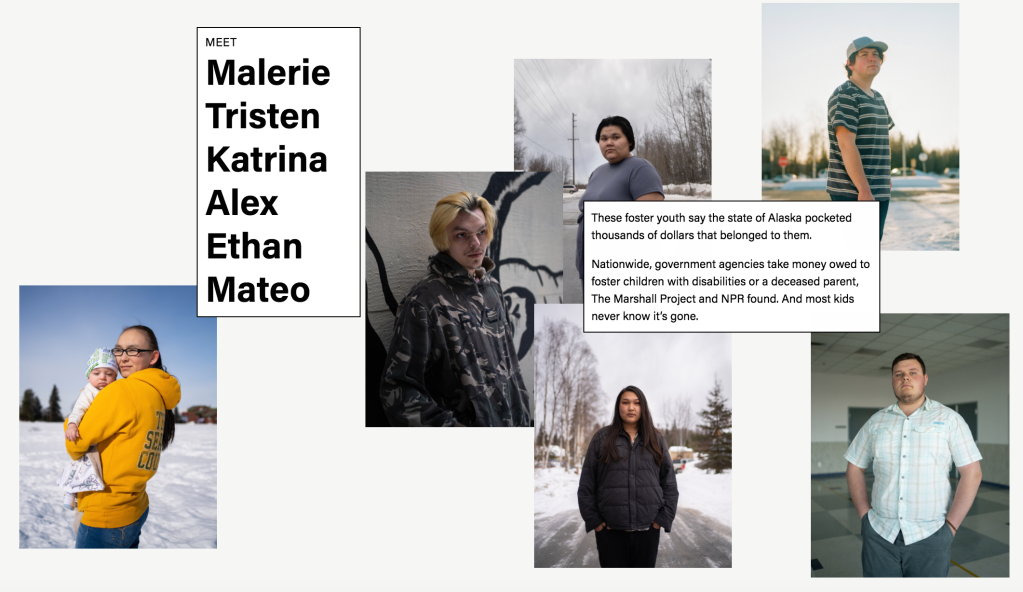 Tristen Hunter, one of those former foster youth, said: "It's really messed up to steal money from kids who grew up in foster care. "We get out and we don't have anybody or anything. This is exactly what survivor benefits are for."
At least 10 state foster care agencies hire for-profit companies to obtain millions of dollars in Social Security benefits intended for the most vulnerable children in their care each year, according to a review of hundreds of pages of contract documents.
Under federal law, all those benefits belong to disabled or orphaned kids. But state foster care agencies are usually automatically approved by Social Security to be their financial representative and take those benefits for state coffers — almost always without notifying the children, their lawyers or their loved ones.
In interviews, several officials said that children in foster care are not mature enough to make good financial choices on their own, and that their family members or foster parents may have ill intentions and pocket the cash themselves. Almost all said that they take these children's benefits as reimbursement for the cost of foster care — meaning they're being made to pay for their own foster care, a public service that federal law and laws in all 50 states require the government to pay for.