The Impact Award honors a trailblazing individual whose work in digital journalism and dedication to innovation exhibits a substantial impact on the industry. The ONA Board of Directors selects honorees regardless of their tenure in journalism.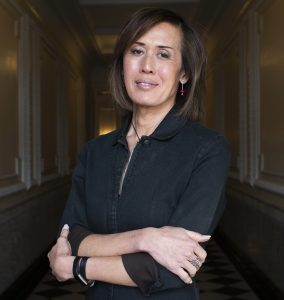 Gina Chua was named Executive Editor of Reuters in April 2021. Previously she was Global Managing Editor of operations, managing editorial operations, budgets, administration, safety and security for a 2,300-person newsroom; she works closely with the data journalism and graphics teams, and with the technology and R&D teams to build newsroom capabilities and tools. At Reuters, she created the award-winning Connected China project, and drove development of its social media verification tool, Tracer.
Gina was previously Editor-in-Chief of the South China Morning Post, based in Hong Kong, and had a 16-year run with The Wall Street Journal, including as a Deputy Managing Editor in New York, where she developed its data journalism team, and as the longest-serving Editor of the Journal's Asian Edition. She speaks regularly at conferences on trends in journalism. Gina is also involved in nonprofit news, serving on a number of boards of such organizations. She transitioned in late 2020, making her one of the most senior openly transgender journalist in the industry.
Impact on Journalism
Gina's impact on the journalism industry is evident and invaluable. Colleagues shared that Gina "has always championed visual storytelling and data." They describe her as as a problem solver and a mentor, and the kind of journalist and leader who is not afraid to think big. She "takes on structural endemic issues, finds the levers to pull and people to talk to build consensus and get things done."
Here's a look at a few of her accomplishments over the past 30 years.
Innovation in visualization
Gina spearheaded an interactive multimedia project for Reuters called Connected China. The app combines deep research and social network analysis to map political power in China.
As Editor at the South China Morning Post, she developed several online resources:

CitizenMap, a crowd-sourced hub that allowed readers to report and explore the extent of environmental damage in Hong Kong.
Who Runs Hong, an interactive database that visualized and revealed relationships, backgrounds and ties among Hong Kong's elite.
People-focused
Gina led the graphics team at the Wall Street Journal and was integral in recruiting top talent to build a robust, award-winning interactive graphics team at Reuters.
As a newsroom manager, she has mentored numerous journalists and helped them develop their careers. She has been especially dedicated to supporting journalists interested in graphics, data and innovation.
During the Covid-19 pandemic, Gina was responsible for procuring massive amounts of protective gear, including thousands of N95 masks from around the world, to distribute to colleagues. She developed protocols for staff to follow when covering hospitals and events to ensure safety.
Dedication to the future of journalism 
Gina has served as a board member of the Institute for Nonprofit News and several other nonprofit news organizations.
Gina is currently working on the Tiny News Collective, an initiative to provide tools, resources, and know-how to help people build sustainable news organizations that reflect and serve their communities.
She speaks frequently at international conferences on sustainability, business models, innovation and technology.
Gina writes about ways to rethink and restructure the business of journalism on Structure of News.
---