About the Project
We Are Witnesses: Chicago explores the nature of crime, punishment and forgiveness in Chicago through a series of fifteen short films. It was released on September 12, 2019, in partnership with WBEZ, The Chicago Reader, and Univision.
Our filmmakers created 15 beautifully composed, direct-to-camera testimonies that give voice to Chicagoans affected by the justice system, including crime victims, affected youth, police officers, judges, families, prison guards and more.
We hear from a North Lawndale teenager who is continually targeted by law enforcement; a couple whose daughter was murdered in a park; a prosecutor in the Cook County state's attorney's office; a former Chicago police officer dealing with the rising number of officer suicides; a mother who forgives her son's killer; the ex-warden of the Cook County Jail; and more.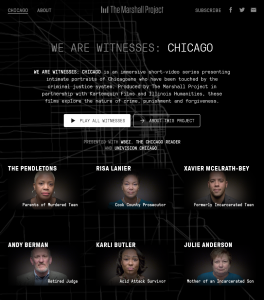 The series was introduced by Alex Kotlowitz, who wrote that these Chicagoans are "asking us to listen, to mourn those they've lost and to celebrate those who have refused to give in. They are asking us, at least for a moment, to stand in their shoes, to see the world through their eyes, to understand what it means to persist in seeking what is right and just. These stories —full-throated and heartfelt and true —feel necessary, especially at a time when our city and our nation have fallen short."

---