About the Project
Weather shouldn't discriminate. Yet, in cities like Baltimore, Portland, Ore., and New York, neighborhoods that are lower-income and have more Black and Hispanic residents can be up to 20 degrees hotter on a scorching summer day compared to whiter, wealthier parts of the same city.
This stunning visual feature by Nadja Popovich and Brad Plumer, journalists on the Climate desk of The New York Times, revealed that this is no coincidence: In the 20th century, local and federal officials enacted policies that reinforced racial segregation in cities and diverted investment away from minority neighborhoods in ways that created large disparities in heat exposure in cities across the country.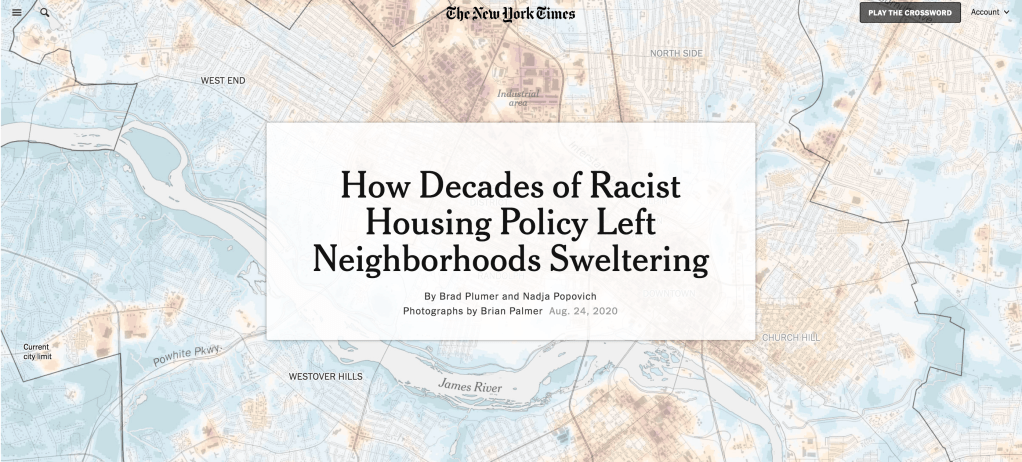 The reporters combined historical maps from the federally-sponsored Home Owners' Loan Corporation with decades of satellite-derived climate data, providing powerful evidence showing how "redlining" and other racist housing policies of the past have directly affected different neighborhoods today.
The project focused on Richmond, Va., a city where crowds last summer tore down Confederate monuments amid a major reckoning with its racist past. Through interactive maps, archival imagery and photographs from today, Brad and Nadja — with help from a local photographer, Brian Palmer — revealed a concealed racial legacy: Unequal exposure to summer heat.
---