About the Project
The family in Chicago's Little Village neighborhood had no idea how dangerous their home was three years ago when 10 children — mostly siblings and cousins — gathered for a late summer sleepover in a coach house. The city had made no effort to tell them about the long history of poor maintenance and building code violations, or that their home had long been labeled a firetrap.
The early morning fire that killed all 10 of them, the youngest just 3 months old, shocked the city. Chicago officials had failed to address a litany of fire safety issues — missing smoke detectors, blocked exits and a chronic history of other fire safety violations. The tragedy sparked a public outcry, but little more than excuses and hollow reforms.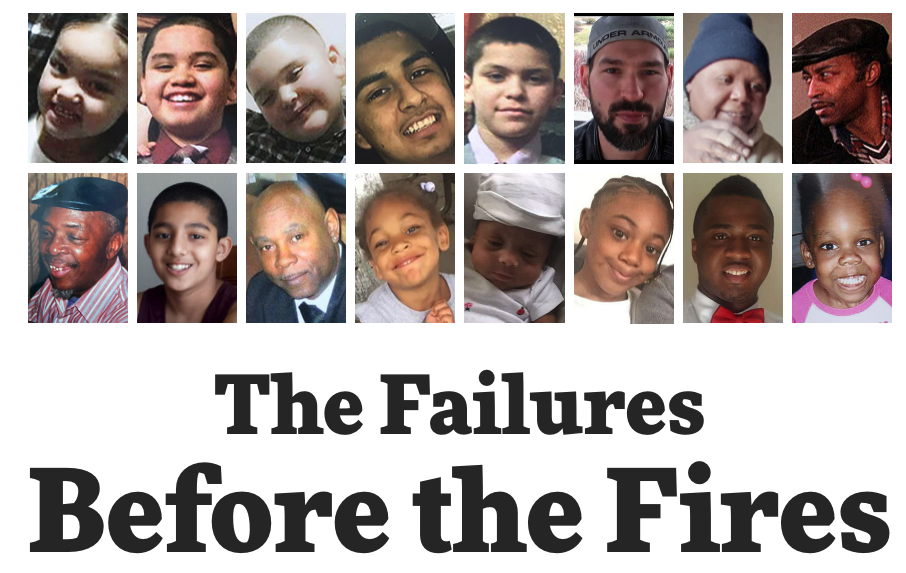 Reporters for the Better Government Association and the Chicago Tribune asked some simple questions: If the city knew about these dangerous conditions, why didn't it do more to protect those kids? And what other fire deaths could have been prevented if the city had done its job?
BGA reporter Madison Hopkins and Chicago Tribune reporter Cecilia Reyes spent nearly two years investigating those questions. The result was the collaborative investigation, "The Failures Before the Fires."
The reporters revealed at least 61 men, women and children died in 42 fires where Chicago officials had been previously warned — often repeatedly — of major fire safety issues. Most of the victims were Black. A third were children.
The investigation revealed the deadly consequences of the systemic downfalls of Chicago's building enforcement system. Hopkins and Reyes found the city perpetuates a convoluted system of informal rules, outdated records and lax oversight that put the interests of landlords above the safety of tenants. Many of the city's failures, the reporters found, directly contributed to the deaths.
Among their stories:
Before two little girls died in a fire started by a stove being used for warmth, five complaints that their building lacked heat went unaddressed by city inspectors.
After nearly 10 years of complaints, inspectors asked city lawyers to sue a landlord after they found only one staircase leading to an attic unit, a major fire code violation. Two months later — with no case having been filed — a man died in the attic apartment after flames consumed the only staircase.
A 311 complaint about missing smoke detectors in an apartment building fell through the cracks because of a paperwork error. Months later, a fire broke out and there were no smoke detectors to warn the tenants. A 3-year-old girl died.
These stories and others had been portrayed as little more than isolated tragedies. But with a holistic look at the city procedures and breakdowns, "The Failures Before the Fires" showed a heartbreaking pattern that connected these deaths. For their efforts to uncover systemic problems in building enforcement in dangerous buildings, we are proud to nominate Madison Hopkins of the BGA and Cecilia Reyes of the Tribune for the Excellence in Collaboration and Partnerships Award from ONA.