About the Project
"There has never been anything quite like "The Hero We Deserve."
We mean that. Seriously. In fact, we're confident, bordering on cocky. The reason? There's never been anyone like Gritty, the Philadelphia Flyers' mysterious yet beloved mascot.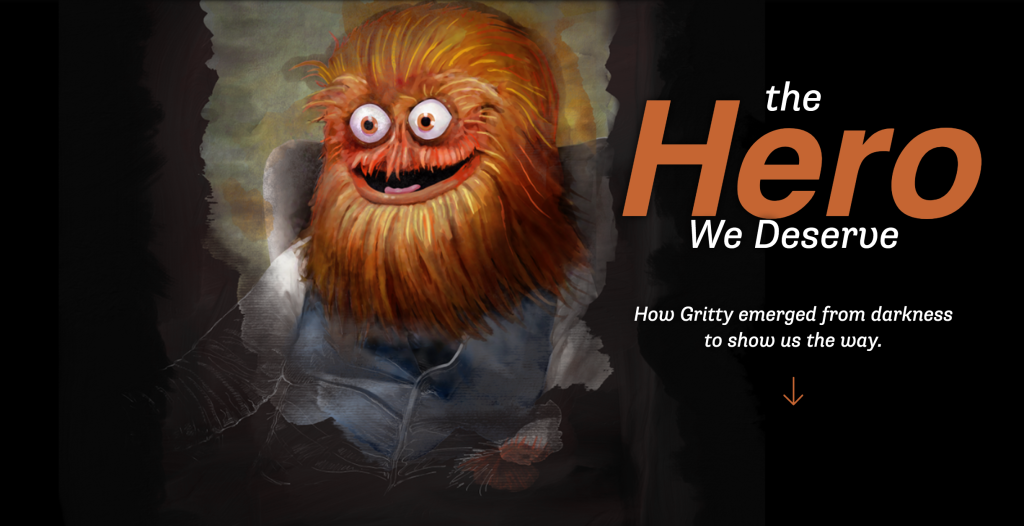 Take a mascot "who kidnapped the public eye… the legend Philadelphians revere as a furry, orange emblem for their underdog city." Add an innovative digital layout that opens with Gritty's soulless, haunting irises peering out of the darkness. Mix in a series of candid photos as Gritty prepares for a Flyers game and then meets the crowd. And finish with a custom-built Gritty Tweetmaker, that delivers – with a push of a button – some of the pop culture icon's best missives.
But that's just the window dressing.
The story was the result of months of reporting by Adam Clark, who wasn't satisfied with merely documenting Gritty's popularity. He wanted to get inside the monster's deranged mind. Who is he? What dumpster was he hatched from? How has he become the cherished but feared blank canvas for all our hopes, fears and neuroses?
We realize this is not your conventional contest entry. Yes, we went meta. Yes, we completely disregarded – by design – the fact that there is a real live person inside that demented costume. Instead, we wanted to capture the true essence of the monster and why we embrace him so. Adam used sharp and colorful writing, witty humor and sophisticated analysis to spin a detailed character study that reveals more about us than Gritty himself.
We're not about labels here at NJ Advance Media, but if you need one, we'll play along. No, this was not a profile, or at least, not just a profile. Let's call it a complex cultural analysis interpreting New Jersey and America and the whole damn human species circa 2020 through the prism of a hockey mascot. A hockey mascot who punched a boy and slapped a reporter's notebook out of his hands within a matter of months – and ended up more popular than ever.
You're probably reading this letter wondering what's wrong with us. I mean, we are journalists in the post-facts era. That alone puts into question our decision-making. And yes, maybe a 4,000-word story – even one as well-crafted as this is – about Gritty is insane.
But in the age of Trump and the coronavirus, of murder hornets and the end of Kim Kardashian and Kanye West's love, "The Hero We Deserve" was the sanest and most insightful story you will read from 2020."