About Samar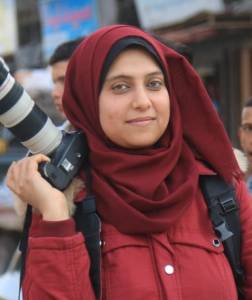 Samar Abu Elouf is an award-winning Palestinian photographer residing in the Gaza Strip. She covers many events where she lives, including stories around gender, women's and children's lives and the consequences of war. Since 2010, she has worked as a freelance photojournalist on assignment for outlets such as Reuters, The New York Times, NZZ Swiss Magazine and others.
For Middle East Eye, Samar documented the 2018–2019 Gaza border protests, the so-called Great March of Return. Like many freelance Palestinian photographers and journalists, she did not have protective gear because the cost is prohibitive and the items are not available for purchase in Gaza. She strapped a cooking pot to her head as a makeshift helmet, and wore a blue plastic garbage bag with the word "PRESS" taped to it, in hopes of differentiating herself as a member of the media and not a protester. Samar applied for support from The Marie Colvin Journalists' Network, which has since supplied her with a flak jacket and helmet.
More recently, Samar has been working with ZUMA Press to cover stories related to the Covid-19 pandemic for the International Committee of the Red Cross (ICRC) and other agencies. In May 2021, she worked on assignment for The New York Times to cover the 11 days of fighting between Israel and Hamas that destroyed essential infrastructure and killed more than 230 people, including several of her own relatives. Her images, both intimate and shocking, capture and convey the dignity of her subjects. One of her photos shows a 2,000-pound MK-84 bomb that did not explode on a bed in a Palestinian home. Other images show family members in the destruction of their homes and mourning dead relatives.
Samar has received mentorship and training in visual storytelling through World Press Photo, RAWIA, Noor Images and the Arab Documentary Photography Program, an initiative supported by a partnership between the Arab Fund for Arts and Culture, the Prince Claus Fund and Magnum Foundation.
Announcement Video
---