About the Project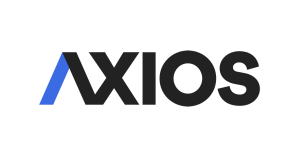 This entry is a selection of five newsletters of AM, Axios' daily morning newsletter covering the top stories that matter, by one of the world's most wired journalists – Mike Allen. The issues in this entry are a sampling of Axios' strongest work, presented to AM's 450k+ subscribers: our scoops, our data visualizations, our deep dives, and our stories that cut through complex issues and explain to readers what they need to know and why it matters in an efficient, reader-friendly way.
Two of these issues cover some of the biggest news days in recent memory: the mass shootings at Dayton and El Paso, and the day coronavirus was declared a pandemic, effectively shutting down normal life in America. Another covers a major trend emerging in business: that of the CEO as a politician and other stories. The fourth newsletter features a scoop about an anonymous White House employee's release of a forthcoming tell-all. Finally, the last is an AM deep dive that chronicles the impacts of coronavirus on the healthcare provider community, a vital group at this time.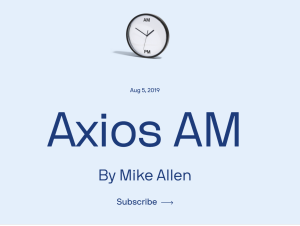 This selection of issues show the key attributes of AM: coverage the top stories you need to know, a consistent length, a Smart Brevity™ count that informs the reader of how long it will take to read the issue, Axios' signature powerful visuals along with a photo of the day, and an elegant, clean design. Each newsletter features the conversational tone and expert analysis of Mike Allen, giving readers a consistent and dependable way to start their day with the stories that matter.
---